The main content of this newsletter would be focused on how the Coronavirus pandemic is affecting the college admission process for seniors of the Class of 2020 who received acceptances from US colleges as well as those students in Grade 11 or Year 12 who are preparing to apply for later this year.
First, the results for the latest Admission season are out and we would like to congratulate Athena students for getting accepted at many top-tier universities thanks to their hard work and effort. This is a first but an important step along their education path in order to attain the goals they have set for themselves.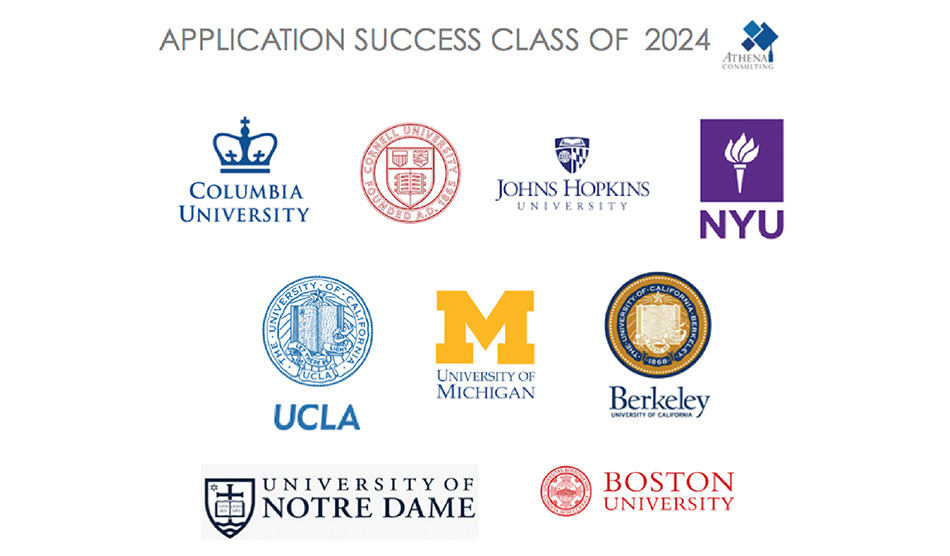 Although the official admission season is not over until each college knows how much of the offers they have made to their accepted candidates get transformed into actual enrollments i.e. yield rate but we can make some basic, general observations from the admission rates of the top colleges, especially the Ivy League which is a good barometer of how the other top-tier universities are faring.
There has been a trend for some time of a shrinking admission pool of candidates due to the general trend of a falling population of high school graduates. Other factors include widespread anxiety about the costs of college tuition and student debt, growing concern about the fairness of admission process as demonstrated by a rash of admission scandals.
The covid-19 pandemic is a new and an unexpected factor that is affecting how the schools are managing enrollment and especially their current waiting list. It is possible that some colleges have become more conservative in their admission process this year not knowing how many of the admitted would eventually enroll by allowing a larger than usual waiting list. We would not be surprise that some students on waiting list could be informed of their acceptances late into June or July of this year.
With the looming commitment deadline for accepted students to enroll by May 1 (with some schools pushing the date back by a month to June 1), there are unpredictable factors at play: Some students may choose to skip enrolling at higher-ranked universities in exchange for safety, affordability and reassurance for those closer to home. Others may opt to take a gap year or not even go to college at all during these uncertain times especially when they could face online instruction this fall instead of the usual on-campus learning. Finally, many international students may not be able to arrive in the US in time due to travel restrictions (since US Embassy around the world have stopped issuing student visas for the time being and there is no firm date for reopening).
At least those seniors graduating this year have the options to decide while juniors who are preparing to apply to colleges later this year find themselves in a more precarious situation. Standard tests such as SAT and ACT have been canceled or postponed since March and their options are quickly dwindling if the situation does not improve by September or October, just a few months before the college admission deadlines. Depending on each school's curriculum i.e. American's AP, UK's A-level or IB, most official end-of-the-academic tests have been canceled and therefore students may not be able to use them as a predictive grade to support in the admission quest. (Even for the AP exams, the tests would be given online under new at-home guidelines i.e. shortened 45-minute test).
For juniors, the chance to visit colleges either this summer or fall seems very remote. Therefore they should do extra online searches on their target colleges or universities i.e. their fields of study or majors. Many colleges are now hosting virtual visits complete with live tour guides and interactive Q&A sessions. Some would even allow requests to meet with a professor on a video chat or even ask to visit an online class.
The colleges are also aware of the obstacles and made changes, some permanent while others temporary for a few years, such as not requiring the SAT or ACT or making the test optional for applicants applying for fall 2021 admission. They include a few Ivy League schools such as Cornell, Princeton & Brown; the UC system, Boston University, Tufts, Amherst College, Williams College, among others.
In the meanwhile, we recommend that all juniors study and prepare for the standardized tests despite the uncertainties regarding the actual test dates. It is very likely that the test provider will come up with online testing schemes. Despite the fact that some colleges may have indicated that test submission has become optional, we suggest that it may be wise for you to submit the test result if you score very high or above-average scores (based on the statistics of that particular college). Also, considering that most of you are studying from home, you must realize that you have found yourself with additional free time. We suggest that you do something useful at home aside than just follow online instructions such as pursuing your passions now that you have the opportunity. You may end up developing new and unexpected personal qualities during this pandemic.
There are still many months to go and the situation would remain fluid. Juniors should be open-minded and gather information through virtual platforms. They should also be in close contact with their high school college counselor who would be in the best position to provide guidance. There is at least one certainty: all juniors applying to college later this year find themselves in the same "boat". Candidates must be reminded that the fundamentals of college admission assessment and selection will remain the same: the best students will be picked based on their ability to contribute to the college they would eventually enroll.
As counselors, we can only give guidance for you to take during these uncertain times but it is through your own effort and hard work that will eventually determine the outcome you strive for.